Welcome to a Special Edition of Capitol Week in Review!   The First Session of the 74th General Assembly kicked off this week with mostly pomp and circumstance. Members were sworn in, leadership elections took place, committee assignments were made, and legislation started being introduced. Capital Week in Review is back to bring you news of bills we are tracking around our priorities of advancing educational equity and racial justice in Colorado and making our schools and communities safer and more supportive. This week we are sharing key information about leadership in the general assembly, updates from the State Board of Education and Governor's office as well as a rundown on our priorities for this session.
Legislative update
HB23-1001, Expanding Assistance For Educator Programs, which supports student teachers toward the goal of diversifying the teacher workforce was introduced in the House.  
HB23-1003, School Mental Health Assessment, which creates the sixth through twelfth grade mental health assessment program was introduced in the House.  
HB23-1042, Admissibility Standards For Juvenile Statements, which increases funding for interrogation training for law enforcement, as well as improves the general reliability of confessions by requiring all juvenile interrogations to be recorded was introduced in the House and assigned to the Judiciary Committee.  
SB23-029, Disproportionate Discipline In Public Schools, which requires each school district board of education, institute charter school board for a charter school authorized by the state charter school institute, or governing board of a board of cooperative services (BOCES) to adopt a policy to address disproportionate disciplinary practices in public schools was introduced in the Senate and assigned to the Education Committee.  
SB23-043, Continue School Access For Emergency Response Grant Program, extends the SAFER grant program for 5 years, until July 1, 2029. The SAFER Grant Program provides funding to encourage and provide training for seamless communivations between schools and first responders.
Senate and House Leadership Elected
Senate
President
Steve Fenberg (D-Boulder)
Minority Leader Paul Lundeen (R-El Paso)
 
House of Representatives
Speaker of the House Julie McCluskie
(D-Summit) Minority Leader Mike Lynch (R-Larimer)
Education Committee Members NaMED
Senate Education Committee Members
Chair: Janet Buckner
Vice-Chair: Janice Marchman  
House Education Committee Members
Chair: Barbara McLachlan
Vice-Chair: Matthew Martinez
Governor Polis Sworn in for Second Term
Governor Jared Polis was sworn in for a second term on January 10, 2023 in front of the State Capitol in Denver. During his inaugural address he highlighted some of his accomplishments such as free full-day kindergarten. While education was not a centerpiece of his speech, he did mention implementation of universal preschool. He also called for unity as Coloradans and acceptance of differences throughout his remarks, "No matter what part of Colorado you call home, who you are, or who you love. No matter your race, or your gender, or how you worship, or how you vote. Colorado belongs to all of us and we will all help shape our future."
Stand Government Affairs Director, Bri Buentello joins our partners at Healthier Colorado at inaugration this week. 
Members of State Board of Education Sworn In
This week, recently elected members Kathy Plomer, Steve Durham, Rebecca McClellan, and Rhonda Solis were sworn in to the State Board of Education. Rebecca McClellan was named chair and Lisa Escárcega was named vice-chair of the State Board. Read more about the roles and responsibilities of the State Board of Education.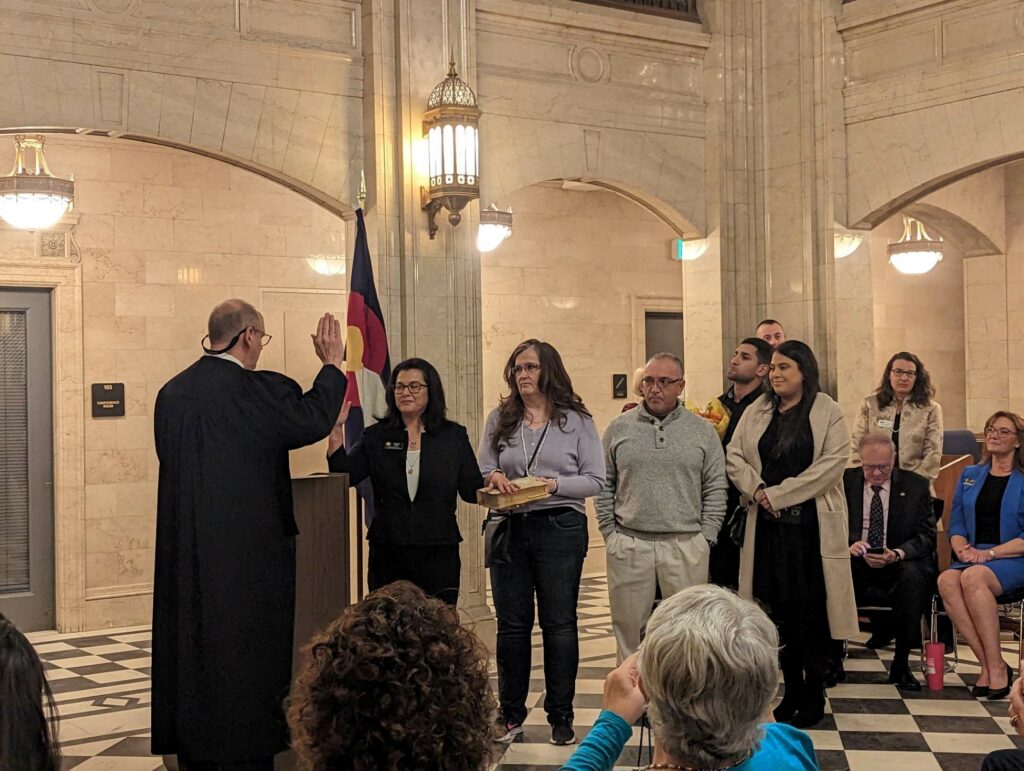 Our Take: Priorities this Session
Stand advocates for educational equity and racial justice in Colorado through meaningful partnerships with families, educators, schools, and policymakers by prioritizing early literacy, high school success, and safe and supportive schools and communities. During legislative session this year our team will be advocating alongside our partners for a variety of policies aligned to our mission.
Our top priorities include:
Expanding funding for the Ninth Grade On- Track and Expelled and At-Risk Student Services (EARSS) grant programs.
Repealing deceptive interrogation tactics for juveniles, updating expulsion policies, eliminating cash bail, and raising the age for detention from 10 to 13.
Finalizing the updated school funding formula to include a new proxy for poverty, ensure a dedicated English Language Learner (ELL) weight, create a better balance for cost-of-living adjustment amounts, and fully fund special education services across districts.
Continuing work towards diversifying the teacher workforce. 
What We're Reading
2023 Colorado General Assembly: The people's guide to following education issues, Chalkbeat  
First day: Colorado lawmakers pledge 'thoughtful' school funding debate amid budget constraints, Chalkbeat    
CSU's teacher preparation program wins state approval, gets kudos for science of reading shiftColorado voters may be asked to forgo their future, Chalkbeat  
TABOR refunds so the state can boost school funding, Colorado Sun