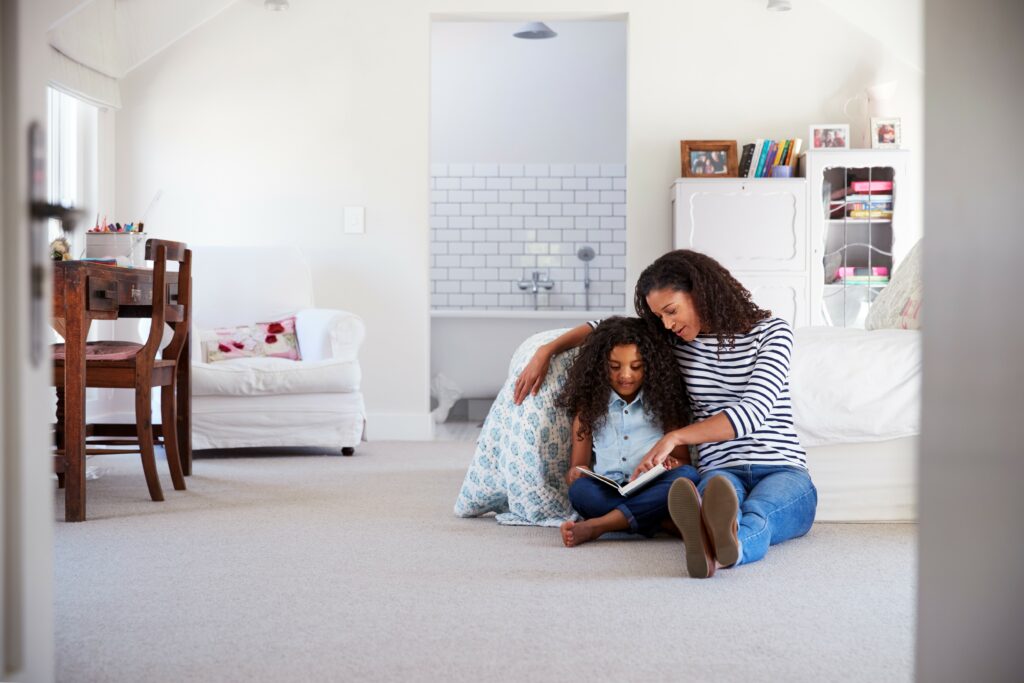 SUPPORT YOUR CHILD'S EARLY LITERACY
No matter where your child is in their literacy development, there are lots of ways you can help them with reading. Parent involvement in their child's learning has been shown to be one of the most important factors in their academic success. Even something as simple as reading aloud to your student for 20 minutes each day can dramatically help their reading and academic abilities.
Beyond that, we want to help you create a home that supports strong readers.  Check out our videos with ideas for fun ways to support your child's literacy at home.
No importa dónde se encuentre su hijo en su desarrollo de alfabetización, hay muchas maneras en que puede ayudarlo con la lectura. Se ha demostrado que la participación de los padres en el aprendizaje de sus hijos es uno de los factores más importantes en su éxito académico. Incluso algo tan simple como leer en voz alta a su estudiante durante 20 minutos cada día puede ayudar dramáticamente a sus habilidades académicas y de lectura.
Más allá de eso, queremos ayudarlo a crear un hogar que apoya lectores fuertes. Vea nuestros videos con ideas de formas divertidas de apoyar la alfabetización de sus hijos en casa.
Natalie and Roman share one of our favorite activities from our literacy workshops: the fly swatter game! It helps students practice sight words and vocabulary. It's most appropriate for kids in elementary school. But, we will show you how to adjust for younger kids and make it more challenging for older students. Read more here.
Storyline Online has hundreds of engaging videos of children's books read by celebrities. In this video you will learn more about how to use Storyline Online to support literacy with your student at home.
Storyline Online tiene cientos de videos educativos de libros para niños leídos por personajes famosos. En este video usted aprenderá como usar Storyline Online para apoyar la alfabetización de sus estudiantes en casa.
Practice letters, numbers, or words in a fun and engaging way with the salt tray writing game. Ms. Hendricks, a kindergarten teacher in Pueblo and her daughter show us how to set this game up and play.
Practique letras, números, o palabras en un juego divertido y educativo que usa una cajita con sal. Ms. Hendricks, es una maestra de kindergarten en Pueblo y con su hija nos muestran como jugar este juego.
Try out Read Conmigo for free children's books and activities in English and Spanish to promote bilingual literacy.
Entre a leer conmigo para obtener libros y actividades infantiles gratis en inglés y español para promover la alfabetización bilingüe
Join Pueblo kindergarten teacher, Ms. Hendricks and her kids for the hot lava rescue game. This game is a fun and active way to practice letters, sight words, numbers, math equations and more!
Unite for Literacy is one of our favorite online resources to support literacy at home. You will find a huge library of books that students can read alone or read along with a narrator. Books are available in English and Spanish and narration is available in over 40 languages.
Unite for Literacy es uno de nuestros recursos favoritos para apoyar la alfabetización en su hogar. Encontrará una gran biblioteca de libros que los estudiantes pueden leer solos o junto con un narrador. Los libros están disponibles en inglés y español y la narración está disponible en más de 40 idiomas.