PARENTS HAVE POWER!
A great example of people using their power to influence change in their community happened in Alhambra School District in February. Stand helped Alhambra parents partner with their superintendent to engage in listening sessions to share their concerns about what was happening in their community.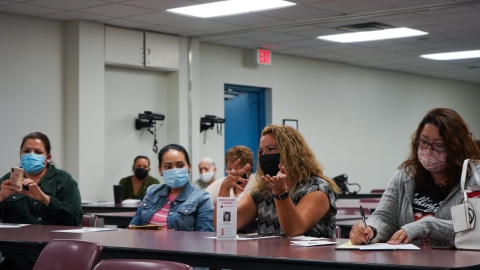 In the listening sessions, parents shared that the issues keeping kids from focusing in school are external to school – things like homelessness, drugs, prostitution, and robbery. On their way to school, kids are seeing people sleeping on the street and walking past discarded needles on the ground. One Stand mom, Luisa, said her kids were scared. They were worrying about the walk home at the end of the day instead of focusing on what was happening in class.
These conversations led to a proposal before the Phoenix city council last month, Act 49, which successfully passed 7-1, investing $4.1M into community safety measures. Over 50 Stand parents showed up at the council meeting and three Stand leaders testified, sharing their stories and why these changes were needed.
And the city listened.
The Phoenix streets where kids walk to school will be safer with more streetlights, cameras, and other safety measures thanks to a successful partnership between Stand parents and the City of Phoenix. We couldn't be more grateful to both!