We are thrilled that Governor Polis signed HB22-1220 into law. This policy will remove barriers in educator preparation to support teacher candidates entering the workforce by: 
supporting teacher candidates by paying them for their student teaching work,
removing financial barriers by paying for teacher exam fees,
expanding pathways to licensure by allowing multiple ways to demonstrate competency.
We are proud to have championed HB22-1220 this year because we see it as a pathway to increasing teacher diversity in Colorado. We believe that removing financial barriers and increasing pathways to licensure will ensure a more diverse educator workforce, which is critical for all of Colorado's students to experience just and supportive schools.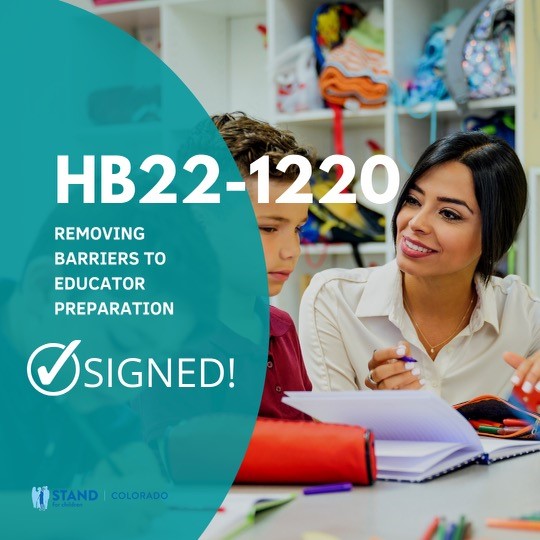 "The traditional pathways to teaching are creating artificial barriers to BIPOC teacher candidates from entering the profession in greater numbers. Unpaid student teaching is another barrier that reduces the diversity of the teaching force, requiring some students to take on second and third jobs in their attempts to satisfy the requirements of their programs. Addressing these issues would remove some of the barriers that are keeping Colorado schools from diversifying their teaching staff." Brooke Sassi, Literacy Interventionist  
Read More:
REMOVING INSURMOUNTABLE BARRIERS, Dr. Theresa Newsom, Gifted and Talented Educator
WE NEED DIVERSIFIED EDUCATORS, Asia Zanders, U.S. Government and Social Studies Teacher