Yesterday marked the end of a busy and exciting 2023 legislative session. We are thrilled to update you on the policy priorities we shared prior to the legislative session focused on advancing educational equity, youth and racial justice in Colorado, and making our schools and communities safer and more supportive.
Before we jump into the policy, we want to thank the many advocates that engaged throughout legislative session – from participating in listening sessions to identify needs and policy solutions, to engaging with lawmakers, to testifying before committees or sharing experiences with members of the media. Hundreds of you sent thousands of emails to policymakers and 27 advocates shared their lived experiences in testimony before committees nearly 60 times.
These impactful policy changes will mean more and better support for Colorado students and educators. They represent steps toward safer and more supportive schools and communities for all Coloradans.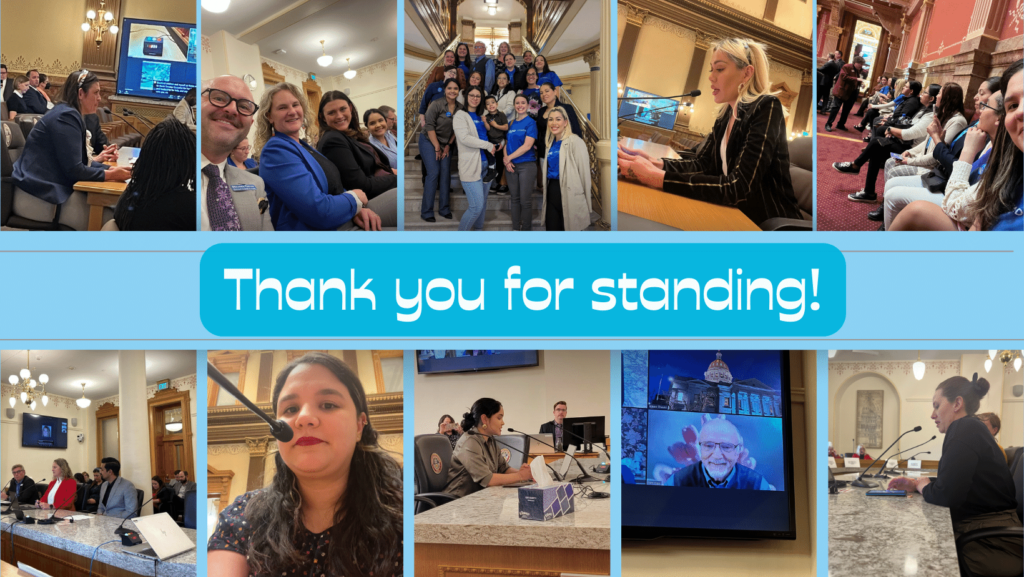 Legislative Update
Updates on our 2023 top policy priorities:
Other Key Bills We Worked to Advance
HB23-1003, School Mental Health Assessment, which creates the sixth through twelfth-grade mental health assessment program, is awaiting signature by the Governor.
HB23-1168, Legal Representation and Students with Disabilities, which requires CDE to create and maintain a list of attorneys qualified to represent a parent in a due process complaint and creates a fund to pay attorneys defending parents against due process complaints filed by an education provider, is awaiting signature by the Governor.
HB23-1233, Task Force to Prioritize Grants Target Population, which creates a task force to establish shared goals and guidelines for entities to utilize in prioritizing new and existing grant money to reduce youth violence, suicide, and delinquency risk factors was passed by the Senate 23-12 and is awaiting signature by the Governor.
HB23-1249, Reduce Justice Involvement for Young Children, which funds the expansion of existing local Collaborative Management Programs (CMP) statewide to serve 10-12-year-old children that come into contact with law enforcement and child victims with support from the Department of Human Services passed by the Senate and is off to the governor's desk for signature
HB23-1263, Translating Individualized Education Programs, which permits the multidisciplinary team that creates an individualized education program (IEP) for a child, who may be eligible for special education services, to translate the IEP draft documents into the dominant language spoken in the home of the child's parent, guardian, or legal custodian, is awaiting signature by the Governor.
HB23-1290, Proposition EE Funding Retention Rate Reduction, refers a ballot issue to the voters at the November 7, 2023, statewide election to allow the state to retain and spend state revenues that would otherwise need to be refunded. If voters approve the ballot measure: the money set aside will be transferred to the preschool programs cash fund and the general fund and the nicotine tax will stay at the rates required by proposition EE. The bill is awaiting signature by the Governor.
HB23-1291, Procedures For Expulsion Hearing Officers, is awaiting signature by the Governor. This bill addresses due process rights for students by mandating the sharing of evidence during an expulsion hearing, prohibiting conflicts of interest for the hearing officer, as well as requiring annual training regarding student development, restorative justice, and special education and the law.
SB23-004,  Employment Of School Mental Health Professionals, which authorizes a school district to employ health professionals, who are not licensed by the Colorado Department of Education but hold a Colorado license for their profession was signed into law by the Governor.    
SB23-039, Reduce Child And Incarcerated Parent Separation, which requires the Department of Human Services to prioritize and facilitate communication and family time between children and their parents who are incarcerated, is awaiting signature by the Governor.
SB-23-287, Public School Finance, which increases the statewide base per pupil funding for the 2023-24 budget year by $598.25 (to account for inflation) and creates a public-school finance task force, is awaiting signature by the Governor.