Your Standoscope: Leo Season
Time to Shine This Leo Season!
After the last few weeks in introspective and emotional Cancer, most of us are ready to finally let loose and join Leo for a moment in the sun. This is the time for each zodiac sign to take a page from proud Leo and stand confidentially in their unique abilities to be leaders in their community.
Leo season encourages us to tap into our creative, expressive, and social side, embracing our sense of community. By using this time to connect with others and raise awareness around public education, you can contribute to creating a more inclusive and supportive educational environment for all students.  
How can you leverage the fiery energy of Leo Season to make an impact in your community? Check out your Standoscope below to find out!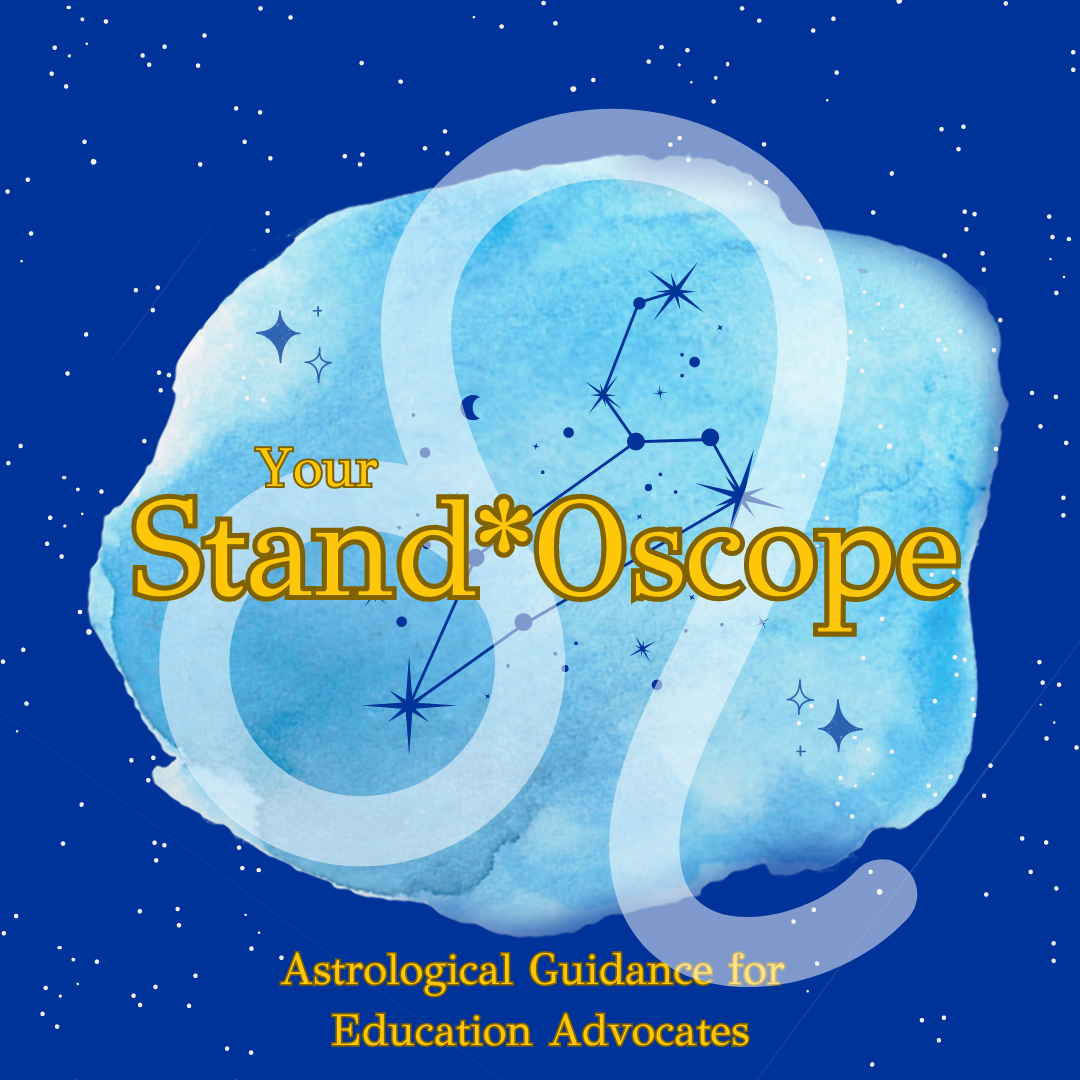 Want to get monthly Standoscopes to your inbox with opportunities to learn more about educational issues, and ways to get involved? Sign up here to stay informed!
---
Aries ♈︎
(March 21 – April 19)
The theme of this season for Aries is self-expression! Use that spark of innovation from passionate Leo to get creative and share the story that inspired you to become an education advocate. Tap into the the leadership energy of Leo and use your story to inspire other's to take up the fight for education equity!
---
Taurus ♉︎ 
(April 20 – May 20)
This Leo season is shining light on your home life. This is the perfect time to talk with your friends, family and loved ones about the issues that matter most to you! Learn how to have those important conversations with your community using our Story Building Toolkit!
---
Gemini ♊︎
(May 21 – June 20)
This Leo season has you feeling reinvigorated and ready to be social! Lean into this communicative energy at our monthly Learn From History call! Learn from other education champions about ways you can get involved in making a difference in your school community, and in communities across the country!
---
Cancer ♋︎
(June 21 – July 22)
You may be a bit tired from your birthday season, but that wont stop fiery Leo from moving forward and bringing you along for the ride! Look forward to a burst of confidence this month, Cancer. Use that confidence to push back against attack on honest and inclusive education by sharing your experience learning about Black history in school!
---
Leo ♌︎
(July 23 – August 22)
Happy birthday, Leo! Your birthday season may leave you feeling reflective about how you can be the best version of yourself. Take some inspo from mom and education champion, Ida, about how you can make a difference in your community.
---
Virgo ♍︎
(August 23 – September 22)
Busybody Virgo might be feeling uncharacteristically sleepy this Leo season. Resist the urge to fight this introspective energy. Instead, lean into the cozy with some heartfelt summer reading to inspire you to learn more about the communities around you.
---
Libra ♎︎
(September 23 – October 22)
You may be thinking about your legacy this Leo season. As you consider what mark you want to leave on this world, look for inspiration form other education advocates about what they are doing to make a positive impact in their communities at our Monthly Learn From History call.
---
Scorpio ♏︎
(October 23 – November 21)
Bold Leo is pushing you to be uncharacteristically daring in your actions. Don't be afraid to take the stage and use this energy to inspire others to feel equally confident by sharing your story of why you want to fight for education equity!
---
Sagittarius ♐︎
(November 22 – December 21)
Adventurous Sagittarius and passionate Leo season are a match made in heaven. Your thirst for knowledge is even greater this month. Quench that thirst and learn more about the long fight for educational equity in Asian American and African American communities.
---
Capricorn ♑︎
(December 22 – January 19)
Leo season is asking you to step out of your comfort zone, especially as it related to your community members. This energy is encouraging you to be vulnerable and share what matters to you most. Share why learning about Black history matters to you and help push back against attacks on inclusive and honest education.
---
Aquarius  ♒︎
(January 20 – February 18)
This Leo season emphasizing your house of relationships and encouraging you to have important conversations with the people that matter to you most. Learn how to have those important conversations with your community using our Story Building Toolkit!
---
Pisces ♓︎
(February 19 – March 20)
Watery Pisces may be feeling fired up this Leo Season. Use that passionate energy to make changes for students around the country at our Monthly Learn From History call!
---
Connect With Us On Social!