Good news: there has been significant progress in Washington towards a more equitable education for every student.
Today, we're publishing a report that shows a majority of Washington school districts have adopted an Academic Acceleration dual credit policy that is rooted in racial equity. Our path is bending towards justice in Washington as we celebrate the removal of historic barriers for students of color and students from low-income families. 
This is a milestone almost a decade in the making.
In 2012 and 2013, Federal Way and Tacoma school districts paved the way when they began automatically enrolling students into the next most rigorous course they were qualified for. Federal Way saw a 70% increase in dual credit enrollment and Tacoma tripled its dual credit enrollment for students of color from 19.5% to 60% by 2018, with no drop corresponding in student passage rates.
It hasn't taken long for this approach to catch on. As the map above shows, the policy has spread across the state and schools continue to demonstrate significant gains for underrepresented student groups in dual credit courses. Now, we're celebrating the fact that 160 school districts have adopted a policy and joined the movement towards dual credit equity!
You can review the current list of districts that have adopted a policy in our Building Bridges report, published today.
When Stand advocates and partners were fighting for statewide adoption of this policy in 2019, former Washington State Teacher of the Year Nate Bowling wrote in The Seattle Times about the impact of Academic Acceleration in his district:
"The underrepresentation of students of color and low-income students in advanced courses is a long-term driver and consequence of societal inequality.
We are not doomed to repeat the mistakes and failures of the past. In Tacoma — where I teach — our standard is to try to make our advanced classes demographically representative of our schools. It's an official policy called Academic Acceleration. We never turn a kid away — even jocks who may be surprised to learn they qualify for advanced courses find themselves in my classroom. This policy works, sometimes even after the students (or their parents) express hesitation at the start of the school year about taking on advanced coursework."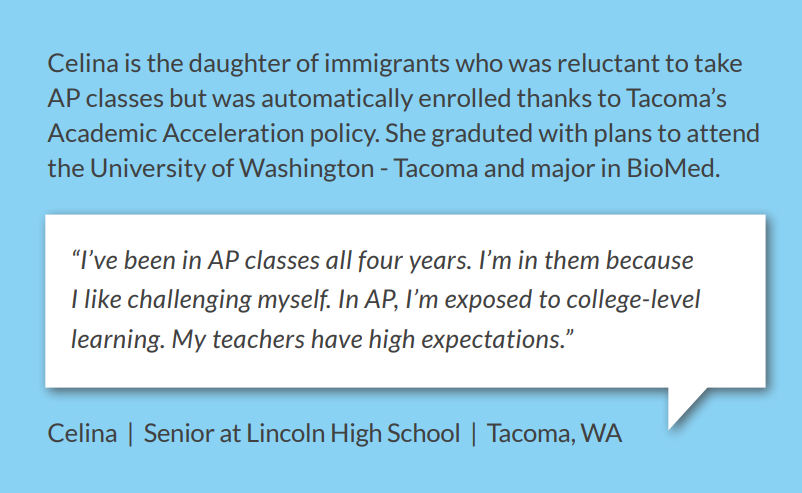 Washington state is committed to increasing enrollment in dual credit courses as a tool for addressing inequity. Dual credit courses like AP, College in the High School, Running Start, and CTE programs prepare students for their next steps in college and career. "Growing equitable access to dual credit programs is one way to stem exploding student loan debt and better prepare our young people for an economically stable future." (OSPI, 2018)
Today's report is the result of years of advocacy and efforts to create a more equitable education system. Click here to view the report and see if your district is included, then celebrate with us by sharing the good news with your community!
We're proud to be standing with you and with these districts as we pave the way for a more equitable education system for every student.