In 2002, educators Scott Sattler and Tami Jackson set out with a vision that would dramatically change the culture of rural Bridgeport High School over the next two decades. At the time, Bridgeport was designated as one of the worst-performing districts in Washington state with some of the lowest student test scores. If they were going to find a new way forward, Tami and Scott believed that they must raise the bar for their students. So they began by offering their very first dual credit courses to any student who would take them.
Bridgeport was years ahead of many Washington districts, adopting an expansive approach to dual credit classes before it became a focus of education policymakers. It wasn't until 2013, after Federal Way and Tacoma School Districts school boards had adopted a policy known as Academic Acceleration, that more Washington districts began expanding access to dual credit through this automatic enrollment process. Bridgeport adopted their official Academic Acceleration policy that same year, but it only formalized what had been fundamental to Scott and Tami's approach over the last decade.
Those first years were not easy for Scott and Tami. Scott, now the district Superintendent, recalls the pushback he received from families about these courses: "I had a parent march into my office upset and yelling at me 'how dare you have my kid enroll in college classes, you're stealing her high school experience!'" But as parents witnessed the students' enthusiasm for dual credit classes and the district was able to demonstrate how much money families were saving in college tuition, the pushback dissipated.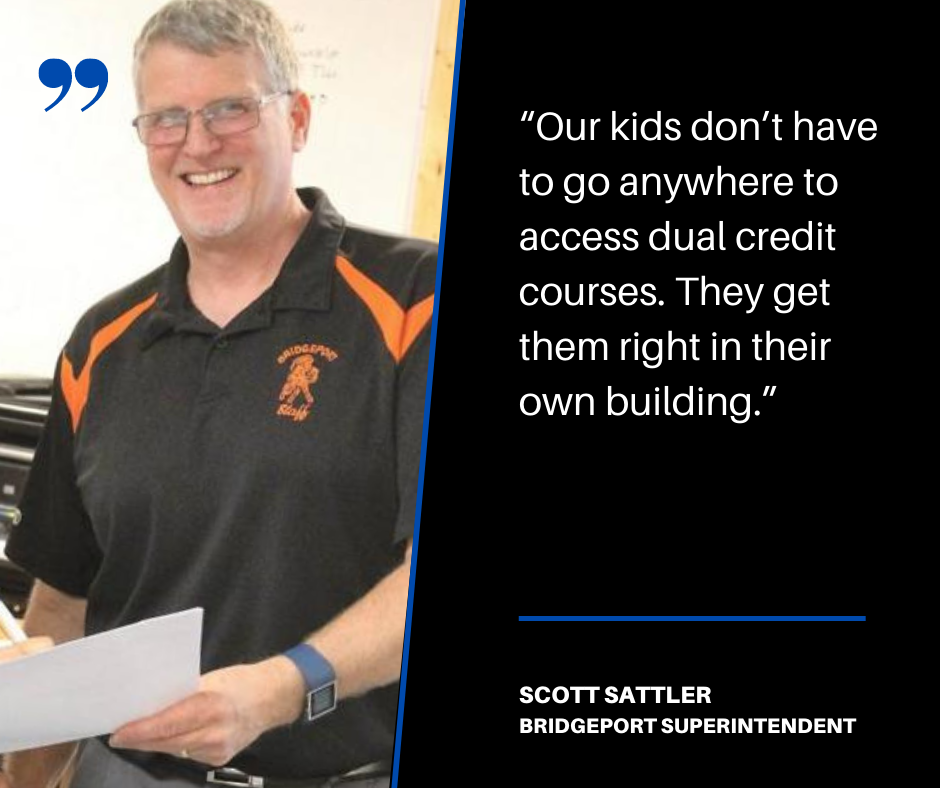 "That student [whose parent yelled at me] still took advantage of those opportunities and that same parent eventually came back and thanked me because she was already two years into college by the time she graduated," said Scott.
Almost twenty years later, Tami looks back on that time and knows for certain that "we couldn't get rid of the program if we wanted to." Now it's an integral part of the Bridgeport High School experience. Their upperclassmen continue the tradition every year when they visit middle schoolers and share reflections about their experiences taking college-level courses.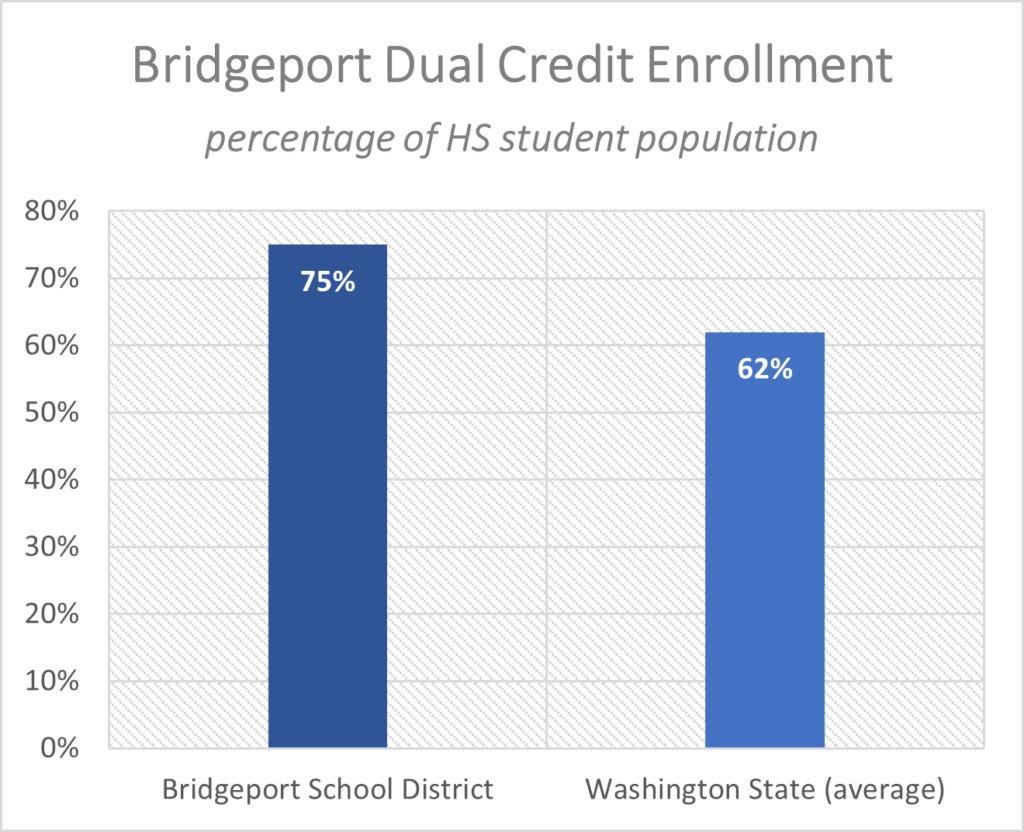 "Parents love the money being saved by earning college credits early, but it's our kids who keep it going." – Tami Jackson, BHS Principal
These days, over 75% of Bridgeport high school students – across all grades – are taking dual credit courses. Across Washington state the average is only 62% of students, putting Bridgeport above and beyond most schools. As a small, rural district with only 800 total students and the closest college campus 45 miles away, their high-rate of enrollment is even more impressive.
"Our kids don't have to go anywhere to have access to these courses," says Scott. "They get them right in their own building." Bridgeport has made a habit of training their own teachers by supporting them in becoming part-time faculty at the closest community college for College in the High School courses or sending teachers to AP professional development programs when they're available. "Being in a rural area, we attract teachers who are interested in living away from the hustle and bustle. That means that we have to train up our own," according to Scott.
In 2011, Bridgeport was recognized as one of the top three high schools in the country during a competition led by the Obama White House. With a student population that is 90% low income and 45% English language learners, their graduation and college enrollment regularly exceed statewide averages. Ten years later, Bridgeport is still seeing results and is looking forward to more schools adopting their approach, starting with Academic Acceleration.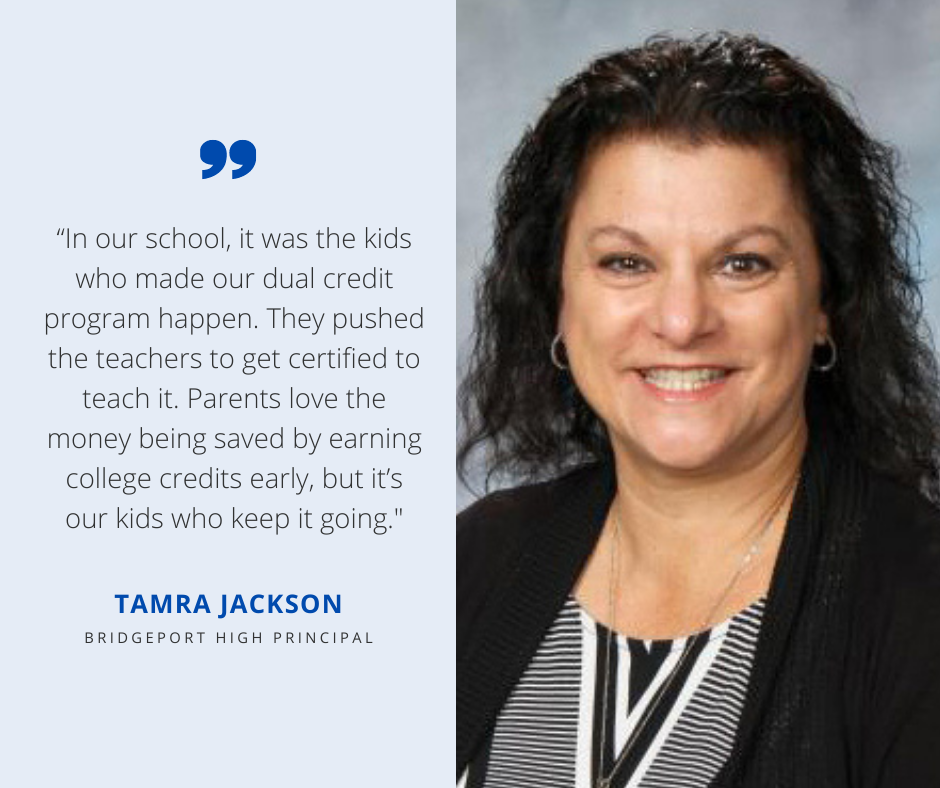 "In our school, it was the kids who made it happen," says Tami, who currently serves as the high school Principal. "They pushed the teachers to get certified to teach dual credit. Parents love the money being saved by earning college credits early, but it's our kids who keep it going."
As of September 2021, a majority of Washington school districts had adopted an Academic Acceleration policy as required by a state law passed in 2019 with the support of Stand for Children and education advocates across the state. Stand's recently released report, Building Bridges to Dual Credit, lists all of those districts and includes links to their individual policies. The report serves as a celebration of the progress made so far and a reference point for the remaining districts that need to adopt a policy by the end of this school year.

If you have questions or would like support connecting your school district to Academic Acceleration resources, please email [email protected] and our team will be happy to help.