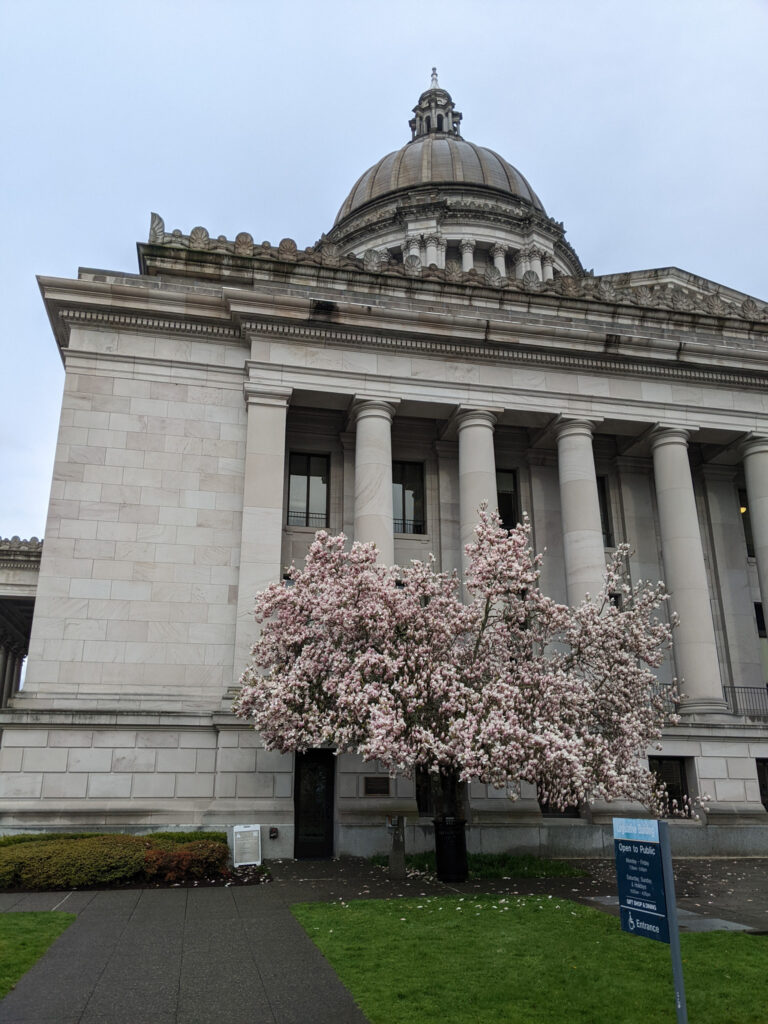 Our experience of the 2023 Legislative Session could be quantified in many ways: 32 Zoom Meetings, 12 emails, 5 trips to Olympia to testify, and 50 hours collaborating to push for policy innovations that will benefit young people across Washington. But you can't quantify the dedication and passion put forth by our entire community these past few months. 
We set out with ambitious legislative goals because students deserve transformative change. Change like building a debt-free youth justice system that reduces harm and promotes community healing, or ensuring that every student graduates equipped for their post-secondary dreams. And even though session ended with some losses, we also had wins and came out smarter, more determined, and more equipped to be a unique catalyst for education equity and racial justice next session.
We all joined Stand for Children WA within the past two and half years, so 2023 was our first year traveling to Olympia to testify in person. Any member of the public could join us, walk the halls of the Washington State Capitol Building, and speak with a legislator or their staff. This made the advocacy experience palpably different from the past two years of virtual session. One improvement over previous in-person sessions is that remote testimony options continued, leveling the playing field so all could have their voices heard.
We took advantage of the hybrid session– attending in-person days of action like Mockingbird Society's Youth Advocacy Day and Civil Survival's Transform Justice, as well as virtual advocacy days like the APRI Annual Charles Rolland African American Legislative Day. Being in community allowed us to share power, build trust, strengthen relationships, and forge unexpected relationships. This is how change-making begins.
And our collaboration extended well beyond Olympia.
The Debt Free Youth Justice WA Coalition fiercely advocated to eliminate punitive and ineffective juvenile court costs (SB 5474/HB 1432). We extend our gratitude to impacted youth for testifying and sharing their life experiences both to shape the bill and during hearings. And we are grateful to Civil Survival and Representative Tarra Simmons for including components of our youth justice bill into HB 1169, eliminating non-restitution juvenile fines and fees. We will continue to fight for Washington to become the first state in the country to replace juvenile restitution with community-based alternatives that allow young people to rehabilitate, victims to gain restoration, and communities to heal.
Another bright spot in the budget was full funding for two provisos that will help advance our debt free youth justice work:
$150,000 to the Administrative Office of the Courts to conduct an analysis of legal financial obligations including restitution. The analysis must be disaggregated by race and ethnicity and calculate a collection rate for different types of LFOs.
$600,000 for the Partnership Council on Juvenile Justice to convene stakeholders, including those directly impacted by juvenile restitution, to develop recommendations for a community compensation fund to replace juvenile restitution, as well as recommendations to improve juvenile record sealing and recommendations on the upper age limit for juvenile court jurisdiction.
Our High School Success Coalition collaborated on bills to support every student on their path to achieving a rigorous high school diploma and pursuing their dreams.
College in the High School fees were eliminated, paving the way for more students to earn college credits that will help them transition to college (SB 5048).
SB 5243l directs the Office of Superintendent of Public Instruction to identify a common online platform for the High School and Beyond Plan and to engage students, families, and communities in the process. This is a step towards more consistent and robust planning for postsecondary opportunities throughout high school.
Summer Running Start is now an option throughout the state, ensuring that students who graduated high school can participate the summer after their senior year to help them complete their AA degree (HB 1316).
Working in partnership and coalition is vital and helps us have stronger wins and to weather the disappointments. And unfortunately, there were some disappointments this session.
We were especially struck by the unwillingness of the legislature to meaningfully engage with the question of what to do when federal pandemic relief money for education expires in September 2024. This will surely be a hot topic next session, and will be coupled with district-level funding challenges associated with declining enrollment. In juvenile justice reform, we also saw less appetite for transformative change than we'd hoped. Despite a few bright spots, a number of policy bills reflecting strong community input and aiming to promote community healing, youth accountability, and a more restorative approach, did not advance.
Nonetheless, through partnership and community, we got through the tough moments of session and these relationships will sustain us as we rededicate our tenacity to policies that prioritize students and families who are Black, Indigenous, and people of color. This time post-session has already given us the time and space to reflect and identify opportunities to meaningfully move forward toward transformative change. 
We always want to hear from you and encourage you to stay in touch over the summer. We're excited to connect more deeply with you, whether you are a student, parent, educator, school board member, or all of the above. As well as continue working with our legislative champions who are not afraid to take a bold stand for what is right for young people. Together, we're confident we can make more robust change in 2024 for those who are furthest from education justice.
Standing With You,
Kia, Liz, Carolina, and Ciarra
Stand for Children Washington Team