English Illinois Staff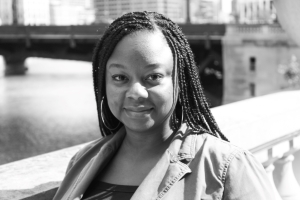 Brandi Watts
Educator Partnerships Director
Brandi served as a middle and high school teacher for 10 years before joining Stand for Children.
She began her career as a special education inclusion teacher, supporting students with profound learning and emotional challenges. Brandi also taught mathematics and college preparatory courses and worked with a wide range of students, including those who would be the first in their families to graduate from high school and attend college. Drawing on her extensive classroom experience, Brandi then became an instructional coach and academic facilitator for schools undergoing critical academic and cultural transformations.
Brandi has worked for the Stand Texas and the Stand Illinois teams. In Texas, she helped build one of the largest family engagement programs in the state. With her support, participating Texas educators conducted over 25,000 relationship-building visits with families.
Now based in Chicago, Brandi leads Stand's efforts to partner with Illinois educators and uplift their voices.
She co-leads Connection Conversations, a parent-teacher home visit program built around voluntary visits supported by educator training and collaboration. This program helps educators and families build trusting relationships, even when circumstances prevent them from meeting face-to-face.
Brandi also plays an integral role in making kindness more commonplace across Illinois through Teach Kindness, a suite of best-in-class social-emotional learning activities, to help schools teach students the skill of kindness.
She is a member of the Illinois State Board of Education's Performance Evaluation Advisory Council.
Brandi serves on Stand's national Diversity, Equity, and Inclusion Committee. She is one of fewer than 1,000 professionals nationwide who hold a DiversityFIRST Certification from the National Diversity Council.
She earned a B.A. in interdisciplinary studies and a master's degree in humanities, both from the University of Texas at Dallas. She is a certified educator in Illinois and Texas. Brandi lives in Chicago.