English Washington Staff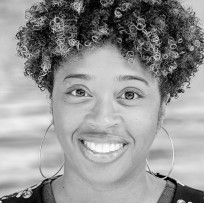 Kia C. Franklin
Executive Director
Kia has dedicated her career to working in, with, and alongside schools and school districts, communities, and non-profit organizations, to advocate for the educational advancement of students, particularly young people who have been marginalized by structural inequities in America's public education system.
Kia's commitment to the cause stems from her own early schooling experiences and her family upbringing, especially the lessons taught by her grandmothers Christene and Lillian, and her parents Charlene and Ronald, who instilled in her a passion for justice and education.
A proud native of Seattle, Kia most recently served as Chief Program Officer for Equal Opportunity Schools. She is also a former academic counselor with a background in law and youth development. By joining Stand as the Washington Executive Director, Kia is excited to support an amazing team and harness the power of community to create transformative change for students.
Kia is a proud aunt to Victoria, Billy, CJ, Kobe and Chancellor. She stays civically active by serving on non-profit boards and national organizations, and in her free time she enjoys cooking, gardening, and writing. She has a B.A. in Political Science and African and African-American Studies from Stanford University and a J.D. from Georgetown University Law Center.