With all that public school teachers have endured these past two years, you would hope that politicians would be doing whatever possible to provide more support and encouragement. Instead, in many places across the U.S., teachers are under attack.
Recent public opinion research conducted by SurveyUSA, an independent research firm, and commissioned by Stand for Children, shows how the onslaught of partisan political attacks against educators threatens to push many out of the profession and worsen our nation's teacher shortage.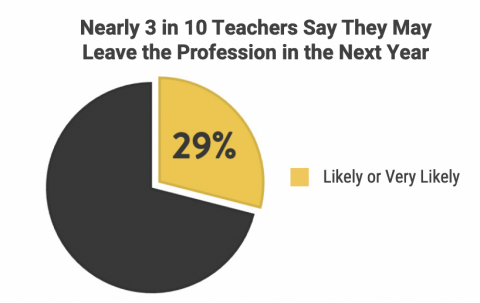 Among the findings in the SurveyUSA national teacher survey:
37% of teachers say a push for laws that prevent honest teaching and conversations in their classrooms would make them more likely to leave teaching at the end of this school year.
92% say students should be able to learn about historical truths, even when they are uncomfortable.
94% say schools should ensure that no students feel unsafe, invisible, or unheard.
Make no mistake: This calculated effort to silence, vilify and demoralize public school teachers has an endgame: to decimate public education as we know it. To block certain students from gaining access to knowledge, and thus, to upward mobility. To destroy long-standing, trusted relationships between home and school.
We are not backing down from this fight because we understand the immeasurable value of public education. We hope you will continue standing with us.
Please take a moment to read the survey findings to hear more about how America's teachers are feeling right now.