English Oregon Staff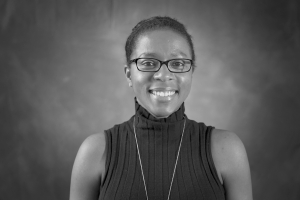 Toya Fick
Executive Director
In less than five years, Toya Fick has leveraged her position as Oregon Executive Director of Stand for Children to create important new opportunities for students and educators alike. As one of the primary authors of Ballot Measure 98, Toya drew from leading research and practitioners from across the country. She also toured Oregon seeking local solutions to raise graduation rates that could be elevated and implemented statewide. Her leadership was pivotal in developing Measure 98 from an idea into a ballot measure that passed with nearly two-thirds support in 2016, and was then unanimously approved by lawmakers in Salem the following summer. With an initial appropriation of $170 million over two years, every single high school in Oregon is now benefitting from significant new investments in career-technical education, dropout prevention strategies, and college level opportunities.
Building on her victories at the ballot box and in the legislature, Toya launched the Oregon Center for High School Success (CHSS) in 2017 as a venture of Stand for Children to support educators in implementing Measure 98. The Center is a cost-free resource to help high schools embed the University of Chicago's Network for College Success' proven Freshman Success Approach. In just its second year, CHSS is providing high quality training and coaching to 65 high schools serving nearly half of Oregon's 9th grade students.
Toya's determination to help students succeed is rooted in her own upbringing. She overcame tremendous obstacles growing up in a small town in Louisiana and become the first member of her extended family to graduate from college. Through her experience as a middle school teacher in Baton Rouge and in Washington, D.C., she also saw firsthand how bad policies negatively impact the classroom, and drew from those experiences as an education policy staffer for former Senator Hillary Rodham Clinton (New York) and then an advocate with the Alliance for Excellence in Education. Before joining Stand, Toya also worked in government relations for the Oregon Health and Science University.
Outside of her professional roles, Toya is active within the Portland community. She serves on the board of the Meyer Memorial Trust, and participates in the International Women's Forum of Oregon. In 2018, she was selected by the German Marshall Fund as one of 72 Marshall Memorial Fellows from across the United States and Europe to promote and strengthen transatlantic cooperation on regional, national and global challenges.
Toya's leadership and community activism earned her a feature in Portland Business Journal's 40 under 40 in 2017. She has also served on the boards of the Oregon Food Bank, the City Club of Portland, the Mt. Hood Cable Regulatory Commission, and the Citizen's Budget Review Committee for Portland Public Schools.
Despite the impact she is having, and the attention her work is generating, Toya is still focused on the most important role in her life: mother to two incredible young children who attend Oregon's public schools.