English Illinois Staff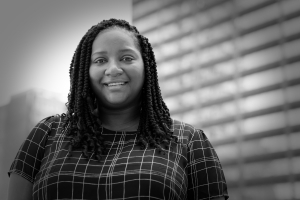 Tommorrow Snyder
Community & Family Partnerships Director
Tommorrow's connection with Stand goes back to 1996, when her mother participated in Stand for Children Day, this organization's founding event. Tommorrow's passion for quality education is evident in her efforts as a volunteer, student, and as part of the Stand family.
Tommorrow has testified in favor of equitable funding at school board meetings, participated in principal-hiring focus groups, lobbied in Washington, DC, and partnered with her alderwoman to address gun violence in the South Shore community of Chicago. She has served as president of both a Local School Council and a Parent Advisory Committee for a CPS neighborhood school. Prior to coming on staff, Tommorrow was a Stand member, team leader, and team captain. She is a 2014 graduate of Stand University for Parents.
In her current role, Tommorrow leads the family engagement and organizing work of Stand Illinois. She served as a member of the Illinois Attendance Commission which was tasked with making "recommendations for strategies to prevent chronic absenteeism." Tommorrow also serves on the statewide Work Group for implementation of the Jett Hawkins Act, the new law banning hair discrimination in schools. She regularly represents Stand in our coalition work and school partnerships, and she has expanded Stand's membership significantly. She serves on Stand's organization-wide Diversity, Equity, and Inclusion Committee.
Tommorrow is the proud mother of a college freshman. She is a licensed cosmetologist and has an associate degree from City Colleges of Chicago and a B.A. in Leadership Studies from DePaul University.