English Tennessee Staff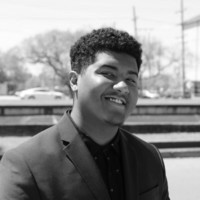 Ron Davis
Field Organizer
Ronald Alan Davis is a lifelong Memphian born into a family of educators and ministry leaders, and is a media professional with a variety of experience organizing and engaging the community in mentorship and advocacy while creating content focused on justice and equity work.
In 2015, Ron graduated from Central High School in Memphis before attending Xavier University of Louisiana in New Orleans. There he would pursue a degree in Music Performance before switching to Mass Communication and focusing on the world of multimedia. He combined his love of music and technology with his passion for advocacy by successfully resurrecting Xavier University's student radio program, which had been dormant for over 6 years, where he executively produced content ranging from news and pop culture podcasts to scripted and non-scripted video content and trained students to do the same. He also worked at WBOK Radio where he switched between roles as a board operator, editor, and host for various news talk shows and musical programs. In 2019, Ron graduated cum laude with a B.A in Mass Communication and Broadcast Journalism.
After moving back to Memphis, Ron began working for the Memphis Wesley Foundation in 2020 to foster youth's relationship with ministry while mentoring them in justice and equity advocacy work. There he eventually became the Associate Director, and used his various skills in media to continue building relationships in our increasingly digital world. During this time, he also worked for St. John's United Methodist church as their Communications Coordinator and Audio/Visual Specialist.
In 2022, Ron would gain the opportunity to work in his new role as Field Organizer at Stand for Children and MICAH Memphis, where he can use his skills in a new capacity to engage his community to pursue a more just and equitable Memphis.