English Center for High School Success Arizona Staff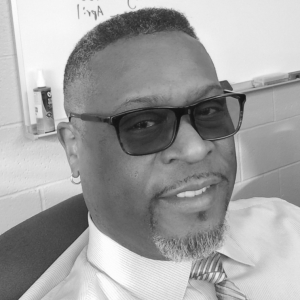 Keith Smith
Arizona Director - Center for High School Success
Born in Flint, Michigan, Keith Smith is a graduate of Loyola Marymount University (BA, Economics) and also had an exceptional career as a basketball star at LMU. Keith Smith was a three time All Conference point guard that received All American status during his playing days. He averaged 17.8 points and 6.4 assist as a sophomore, 25.1 points and 5.6 assist as a junior, and 21 points and 7.0 assist as a senior. After his stellar colligate career Keith was drafted By the Milwaukee Bucks and played during the 1986-87 season. During his playing days Keith had the opportunity to play for three legendary coaches, Don Nelson, Paul Westhead, and George Karl. In 2001 Mr. Smith was inducted into the LMU Athletic Hall of Fame. Keith's career was cut short by injuries and he moved into the private sector, co-founding a Cellular Phone Company in Los Angeles. After three years in the private sector Mr. Smith transitioned to education and became the Athletic Director at Valley High School from 1995-1999. Mr. Smith and his family moved to Seattle, WA in 1999 and he started his now 20-year career in the Seattle School District.
Mr. Smith now serves as the Principal at Rainier Beach High School. Rainier Beach High School has a long tradition as a powerhouse basketball program with distinguished alumni that includes Jamal Crawford, Doug Christie, Nate Robinson, Dejounte Murray, and many others. Rainier Beach is also an International Baccalaureate School that has won the Distinguished School honor the past two years under Mr. Smith's leadership. Prior to his current role, Mr. Smith served as the Principal at South Lake Alternative High School and the Assistant Principal at Franklin High School for nine years. During that time, he supervised the math department, athletics and special education. He also oversaw the ninth-grade city levy investment as well as the intervention and prevention case management team. During his tenure in the Seattle School District Mr. Smith also served as a House Administrator at Meany Middle School, a teacher at John Marshall Alternative High School and a Site Coordinator for the Interagency Academy.
Mr. Smith earned a Bachelor's Degree in Economics from Loyola Marymount University, and a Master's in Education and his Principal Certification from Heritage University as well as his Professional Administrator's Certification from City Year University. Mr. Smith is passionate about strengthening the bonds between school, families, and community with student success as the focus. He has strong beliefs in growing teacher capacity through collaboration and coaching. And he brings extensive experience in building systems and supports for students and staff.
Mr. Smith believes in high quality instruction, collaboration and positive relationships as the foundation for building a strong educational community. In his words, "education gives our youth the opportunity and access to successful futures." Mr. Smith is committed to being a change agent for youth. He wants the youth of America to continue to excel while being productive citizens with a focus on social Justice and innovation.
Mr. Smith is the father of two fantastic sons. His 22-year-old son Keith Smith is in his Senior year as a student athlete at Pepperdine University. His youngest son Stephen Smith is a Freshman student athlete at College of Southern Idaho. Mr. Smith states his greatest accomplishment in life is being the proud father of both Keith and Stephen. Mr. Smith's passion for academics continues to drive his efforts to make a difference for the youth that he serves.