The LEAD Fellowship provides educators and administrators with opportunities to hone their craft, study education policy, find and elevate their voice, engage with local and state policy makers, and advocate on behalf of all students.
For the 2022-2023 school year, the LEAD Fellowship is offering a fresh experience for both new and returning Fellows.
With a specific focus on teacher advocacy and understanding the key processes and factors that impact education, year one of the LEAD Fellowship is designed to help educators identify the shifts from great teacher to teacher advocate. With this foundational year successfully completed, Fellows may be invited back to participate in the Advanced LEADers series, wherein they will participate in or develop advocacy initiatives to address areas of interest.
THE LEAD FELLOWSHIP V ADVANCED LEADERS SERIES
The LEAD Fellowship is recommended for all education practitioners, whether you're a principal, teacher, administrator, para, resident/student teacher, and/or counselor. All experience levels, locations, and school types are welcome to participate. The LEAD Fellowship provides a foundational year grounded in learning about teacher advocacy, current issues in education, and the structures and roles throughout policy and decision making spaces. The intended outcome for those completing the initial year is greater knowledge, confidence, awareness, and intentionality in navigating and developing teacher advocacy.
The Advanced LEADers Series is available to those who have already completed at least one LEAD Fellowship and is by invitation only. Advanced LEADers will gain a deeper understanding of key educational initiatives and execute initiatives in areas currently affecting Louisiana's students and educators.
2022-2023 LEAD Fellowship Year at a Glance
Both Fellowships kicks off in November and include two virtual meetings before the end of the calendar year. The LEAD Fellowship will meet on the first Wednesday of every month while the Advanced Series will meet on the second Wednesday of every month. Since every meeting builds on the previous discussions, it is important that Fellows attend every meeting. There may be pre- and/or post-work for every month's topic.
Both Fellowships conclude in April with an in-person event full of networking, discussions, meetings, share outs, and more.
The LEAD Fellowship will be facilitated by 2018 Louisiana State Teacher of the Year Kim Eckert and the Advanced LEADers Series will be facilitated by a team of rockstar education advocates.
LEAD Fellowship Progression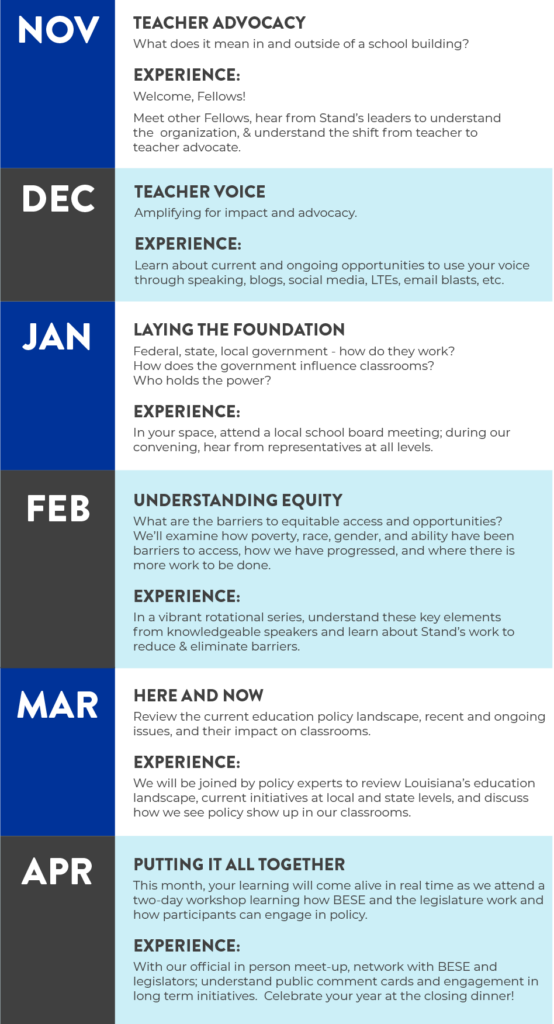 ---
Please enjoy these memories from our April 2022 capstone event in Baton Rouge when Fellows put it all together: