November 8th was an important day for our parish and state. Many of our public officials were up for election or re-election, including all nine seats of the East Baton Rouge Parish School Board.
We are pleased to share that five of the seven school board candidates endorsed by students, teachers, parents, and community members won their election or a spot in their district's runoff! This is very promising for the future of East Baton Rouge Parish Schools, and we know that EBR is on the Rise! These five endorsed individuals believe in expanding access to quality early education, improving school safety, passing policies to ensure there is a quality teacher in every classroom, and that a child's future should never be determined by their zip code. These candidates ran clean, positive campaigns focused on our most important resource: our students.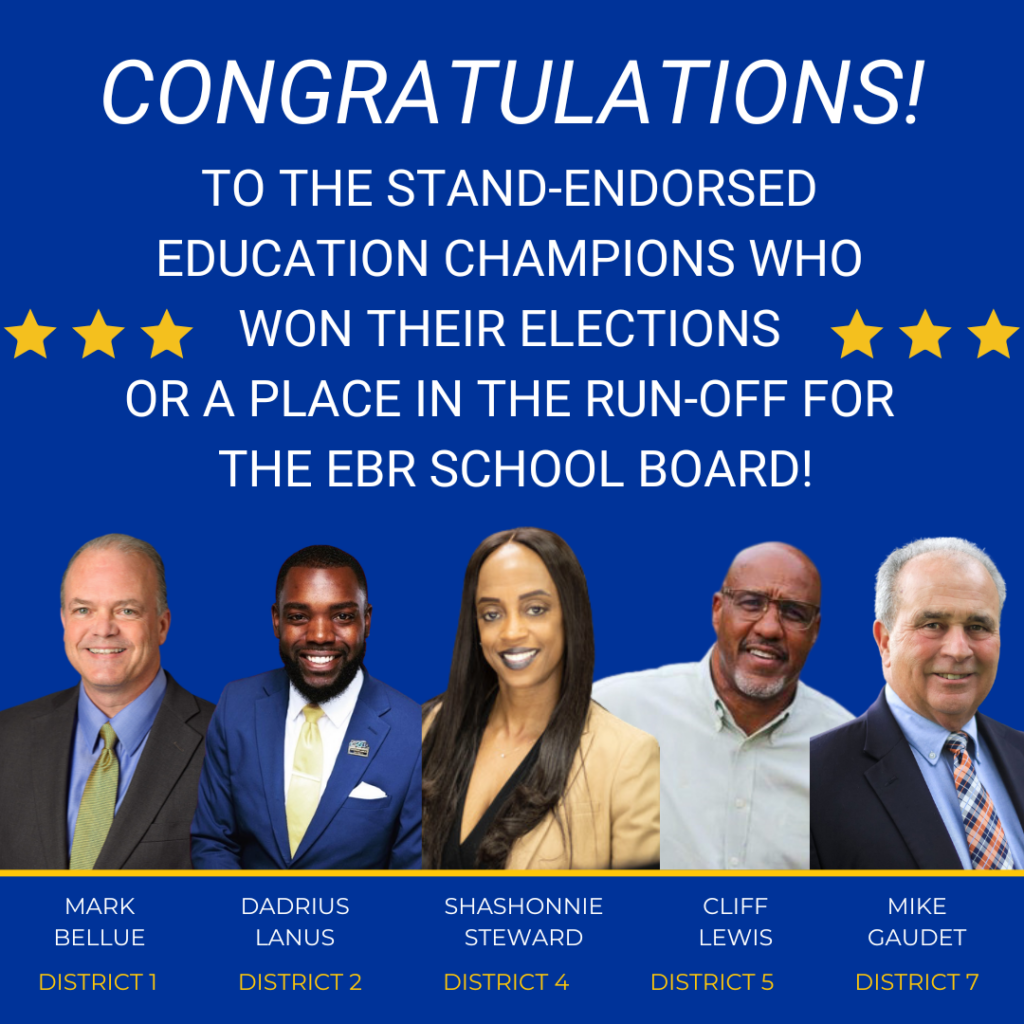 District 1: Incumbent Mark Bellue defeated challenger Dr. Kimberly Bainguel by a narrow margin. Mark's return as a quiet and steadfast leader will be important as the district continues to implement its student-centered strategic plan.
District 2: Incumbent Dadrius Lanus defeated challenger Vereta Lee with a landslide 66% of the vote. Dadrius is a champion for equity in our district, and we look forward to his continued service in support of students across District 2 and the whole of East Baton Rouge Parish.
District 4: Shashonnie Steward will be in the December 10th runoff against Monique Wicks Robinson. District 4 is an open seat (no incumbent running) and in the November 8th primary, Shashonnie secured 47% of the vote to Monique's 28%. Some of Shashonnie's most exciting ideas including bringing a dedicated Pre-K facility to District 4 and continuing to build on the district's efforts to improve workforce readiness opportunities for all students.
District 5: Challenger Cliff "Coach" Lewis defeated incumbent Evelyn Ware-Jackson with 54% of the vote. Coach Cliff worked incredibly hard throughout his campaign to ensure every District 5 voter heard and understood his vision for EBR students: one that uses his experience as a Coach to unite schools and families toward the common goal of supporting and educating our students.
District 7: Incumbent Mike Gaudet will face challenger Cathy Carmichael in the December 10th runoff. Despite false negative ads attacking Mike's character in the last days and weeks of the election, he stayed laser-focused on the facts and his undeniable student-centered track record. We will continue to support Mike in the runoff because his experience with balancing the district's budget, level-headed and student-focused approach to every issue, support for teacher pay raises, and unwavering commitment to expand access to quality early education are too important for our district to lose if we are to keep EBR on the Rise.
Now, we cannot let off the gas. Two Stand-endorsed candidates are in runoff campaigns. They have another four weeks of campaigning until the December 10th runoff. We believe Shashonnie Steward and Mike Gaudet will be important members of the school board and we will continue to elevate their student-centered platforms and support their efforts.
Thank you, Baton Rouge, for showing up for students. We are inspired by the opportunities ahead of us.
LEARN MORE:
To learn more about the good things going on in EBR and what's still coming, please visit https://bit.ly/ebrontherise.
If you have questions about how, when, or where to vote in the run-off, please visit the Louisiana Secretary of State's Geauxvote webpage or the GeauxVote app.
If you would like to donate in support of the two parent-, student-, community-, and teacher-endorsed candidates who are in runoff races, please click here.